DERMONEUROMODULATING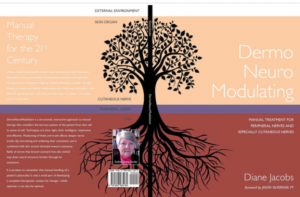 1 DAY COURSE OUTLINE: SYDNEY 19 NOV 2022
THE GREAT SOUTHERN HOTEL
717 GEORGE ST , HAYMARKET 2000
8.30am – 5.30pm
Lecturer: Robin Kerr (Physiotherapist)
Dermoneuromodulating (DNM) is a nervous system (via cutaneous nerves)
focused manual therapy method developed by Canadian physiotherapist Diane
Jacobs. It provides a new paradigm in manual therapy that moves us away
from the operative "find a joint or soft tissue fault and fix it " mentality of our
past manual therapy teachings. DNM dismisses the mechano-structural
explanations that have underpinned therapy and in particular manual therapy
dogma for decades.
Instead, DNM encourages a hands-on interaction between the therapist and
patient that facilitates positive changes in pain and movement. This interactive
nervous system focused manual therapy moves us towards congruence with
recent pain neuroscience findings via a focus on nervous system processes, in
particular downregulation
Dermo -> skin
Neuro -> nervous system
Modulation -> change
This course will supplement Diane's online course on Embodia or provide the
therapist with a solid foundation on DNM . The course is open to ALL therapists
who perform manual therapy.
PRE COURSE MATERIAL WILL BE PROVIDED IN THE FORM OF VIDEOS AND ARTICLES ON:
• PAIN NEUROSCIENCE : 2 Hours of current clinically relevant science information for
the clinician
• CUTANEOUS NERVES & THEIR RAMI: The skin stretch and "twizzling" focus in DNM
• BIO-PSYCHO-SOCIAL ASPECTS OF PAIN EXPERIENCES. Persistent pain loops. Vector
charting
• TRICKY AREAS FOR CLINICIANS-The impact of adverse childhood experiences and
psychological trauma on the embodied mind.
• MANUAL THERAPY HAS BEEN GETTING A BAD WRAP – Where are we at?
• HIP/LOWER LEG & FOOT TECHNIQUES will be pre videoed
• MOTION SNACKS: RKs favourite easy 3D motion exercises to maintain gains
DUE TO THE CONDENSED NATURE OF THE FLOOD AFFECTED 2022 COURSE, THE DAY WILL
REVOLVE AROUND CASE STUDIES. THESE ARE ALL CASES SEEN IN THE CLINIC BY RK.
ALL MAJOR TECHNIQUE CONCEPTS AND CUTANEOUS NERVES WILL BE COVERED.